What is a brand? – You need to know when discussing Branding Strategy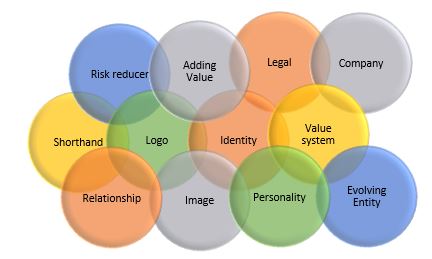 To be able to discuss Branding, you need to know what a Brand is.
There are several definitions and terms that intends to describe the concept Branding.
---
Chernatony and Dall'Olmo Riley (1998)
Argue that there are 12 carateristics that constitutes a Brand:
(1) legal instrument; (2) logo; (3) company; (4) shorthand; (5) risk reducer; (6) identity system; (7) image in consumers' minds; (8) value system; (9) personality; (10) relationship; (11) adding value; and (12) evolving entity.
---
Transactional definition of a brand:
A brand can be defined in terms of what it is and the key role it performs in the marketplace.
American Marketing Association defines a brand as 'a distinguishing name and/or symbol (such as a logo, trademark or package design) intended to identify the goods or services of either one seller or a group of sellers, and to differentiate those goods or services from those of competitors.' (Aaker, 1991: 7)
---
Dall'Olmo Riley and de Chernatony (2000: 140)
suggest that "the concept of the brand has evolved from a firm's products, to that of a relationship based on trust.'
---
Paul Felwick (in Cowley 1991:21) describes it thus:
"At its simplest, a brand is a recognisable and trustworthy badge of origin and also a promise of performance." A relationship between a brand and the consumer is built up via direct experience of the brand as well as via promotional messages. And in Feldwick's words a brand is 'a promise' or reassurance and strong brands are those which the customer trusts and believes will always deliver.
---
de Chernatony 2002: 116
The brand, in this sense is an intangible asset representing the dynamic interrelationship between an organisation's activities and its customer's interpretations. "It can be defined as a cluster of functional and emotional values, which promise a particular experience. The success of a brand depends on the extent to which there is harmony between the managerially defined values, effective implementation of values by staff, and appreciation of these values among customers.
---