Relationship Value Management Framework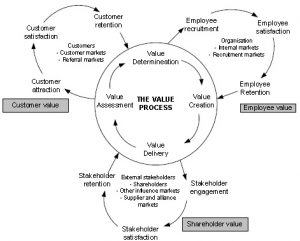 Elements of Relationship Value Management Framework:
The Value Process: Value Determination – Value Creation – Value Delivery – Value Assessment
Customer Value: Customer Attraction – Customer Satisfaction – Customer Retention
Employee Value: Employee Recruitment – Employee Satisfaction – Employee Retention
Shareholder Value: Stakeholder Engagement – Stakeholder Satisfaction – Stakeholder Retention
---
Principle:
This framework contains two main elements, namely, the central value process and the surrounding stakeholder interaction processes.
---
Issues:
Important to identify and understand what drives the customers when they use or consume products or services
The activities:
customer attraction, customer satisfaction, and customer retention.
employee recruitment, employee satisfaction, and employee retention.
stakeholder engagement, stakeholder satisfaction, and stakeholder retention
Consequently, when organisations implement a value management approach, they should adopt an integrated approach to manage stakeholder groups by concentrating not only on their relationship but also on the linkages between customer value, employee value, and shareholder
---
Applications:
The framework also illustrates how the value process has linkages with multiple stakeholders.
---
Source of Relationship Value Management Framework:
---